To achieve industrial edge computing, new devices are required to satisfy a new set of challenging requirements such as time-predictability, dependability, energy-efficiency, and security.
The aim of FRACTAL is to create a reliable computing platform node, realizing a so-called Cognitive Edge under industry standards.
This computing platform node will be the building block of scalable decentralized Internet of Things (ranging from Smart Low-Energy Computing Systems to High- Performance Computing Edge Nodes).
Cognitivity is provided by Artificial Intelligence methods, supported by internal and external architectures that allow the (platform) node to proactively adapt to changes in the surrounding world. Hence, this node will have the capability of learning in real-time how to improve its performance and dependability despite the uncertainty of the environment. However, while these features are critically important, focusing only on them leaves aside the enhancement opportunities brought by the continuous emergence of more powerful solutions in the area of Cyber-Physical Systems (CPS), Systems of Systems (SoS) and Internet of Things (IoT). For instance, opportunities coming from advanced microelectronics, high-performance computing, smart system integration, and improved cloud services have traditionally been mostly neglected. Missing those opportunities may easily make the node fail to meet the stringent requirements for increased autonomy coming from the new application domains.
As a result of the integration of these cognitive systems into an edge fractal network, there will be an intrinsic crucial advantage, a combination of safety, adaptability and emergence of new possibilities. Therefore, new industrial functions will flourish through the created space of possibilities of our cognitive systems. This scalable fractal network will transfer all those cognitive advantages to a new Cognitive Edge, a computing paradigm that lies between the physical world and the cloud.
FRACTAL follows a disruptive approach
Taking advantage of the latest research in high-performance processor architectures and artificial intelligence, FRACTAL will make smart systems in particular, and edge systems in general, able to learn from the surrounding context, adapt to changes, transform themselves and stay connected with an extremely dynamic environment.
This will allow edge systems to become Cognitive Systems that will gain capabilities and efficiency in a fully autonomous manner as required for the most demanding industrial applications.
The overall objective of the FRACTAL project is to create a cognitive edge node enabling a fractal Edge that can be qualified to work under different safety-related domains such as automotive, railway and smart cities to name a few. This computing node will be the basic building block of intelligent, scalable and non-ergodic IoT (ranging from Low-Energy Computing to High-Performance Computing Edge Nodes). The cognitive skills will be enabled by an internal and external architecture that allows forecasting its internal state and the state of the surrounding world. This node will have the capability of adapting to improve its behaviour (performance, safety, security, power efficiency, etc.) and deliver new services against the uncertainty of the environment.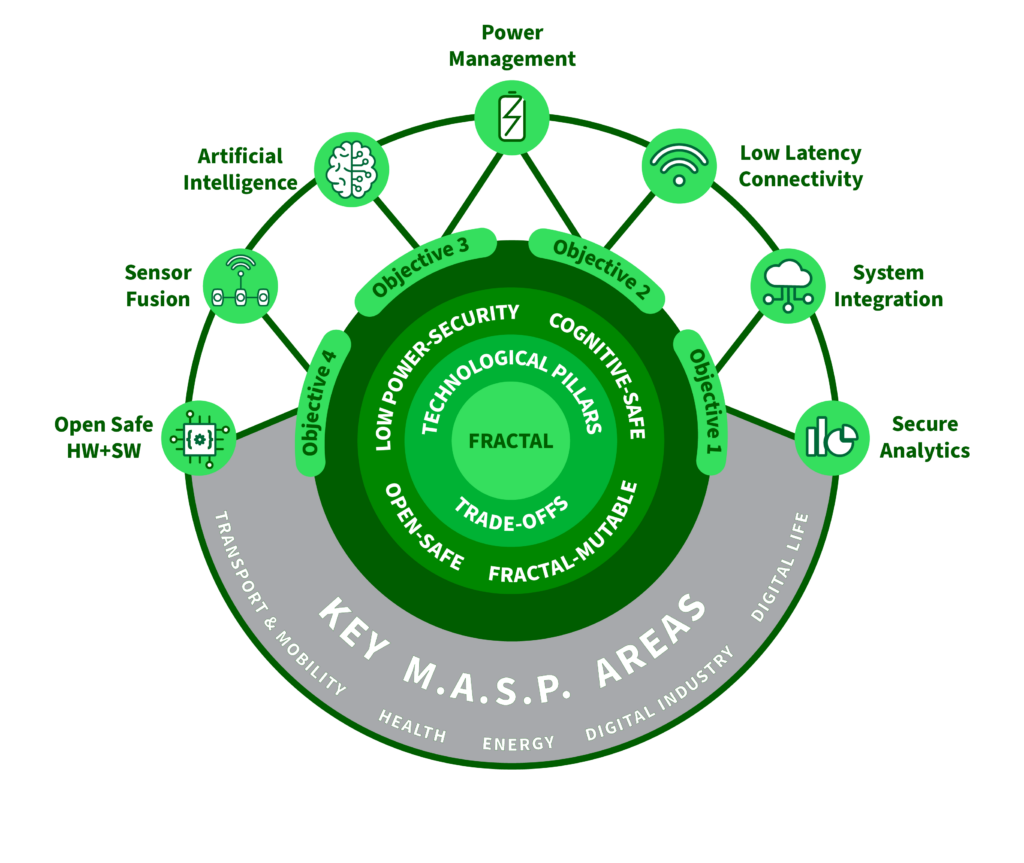 Main pillars of FRACTAL plus the four Objectives.
FRACTAL will provide autonomy, context awareness and intelligence in the edge by means of an open-safe-reliable and power-efficient cognitive edge node.
Quarter 1
Design and Implement an Open-Safe-Reliable Platform to Build Cognitive Edge Nodes of Variable Complexity
Quarter 2
Guarantee extra-functional properties (dependability, security, timeliness and energy-efficiency) of FRACTAL nodes and systems built using FRACTAL nodes (i.e., FRACTAL systems).
Quarter 3
Evaluate and validate the analytics approach by means of AI to help the identification of the largest set of working conditions still preserving safe and secure operational behaviours.
Quarter 4
To integrate fractal communication and remote management features into FRACTAL nodes.
Nowadays, the development of new heterogeneous multicore and manycore processors, increased connectivity, low power, high miniaturization in combination with Artificial Intelligence paradigms place the research of Smart System and IoT on the verge of a revolution. Therefore, FRACTAL proposes to implement a new Smart System paradigm: The Cognitive Edge Node, as the main building block of FRACTAL cognitive systems, relieving the cloud from many responsibilities so that the cloud only needs to manage and control the edge nodes.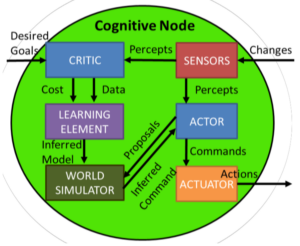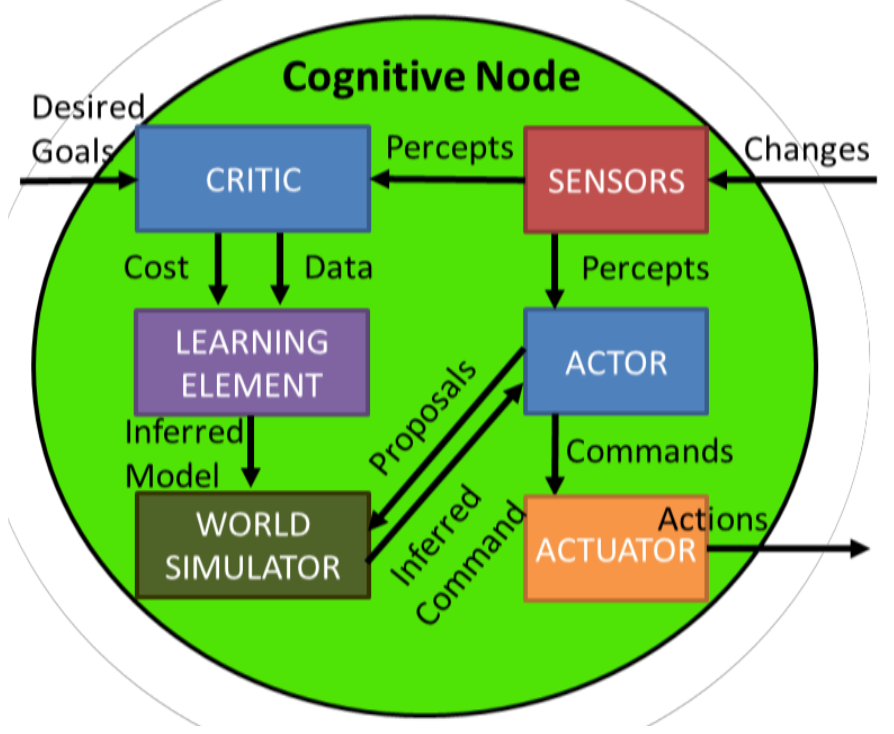 Schematic representation of a Cognitive and Autonomous System underlying the main modifications.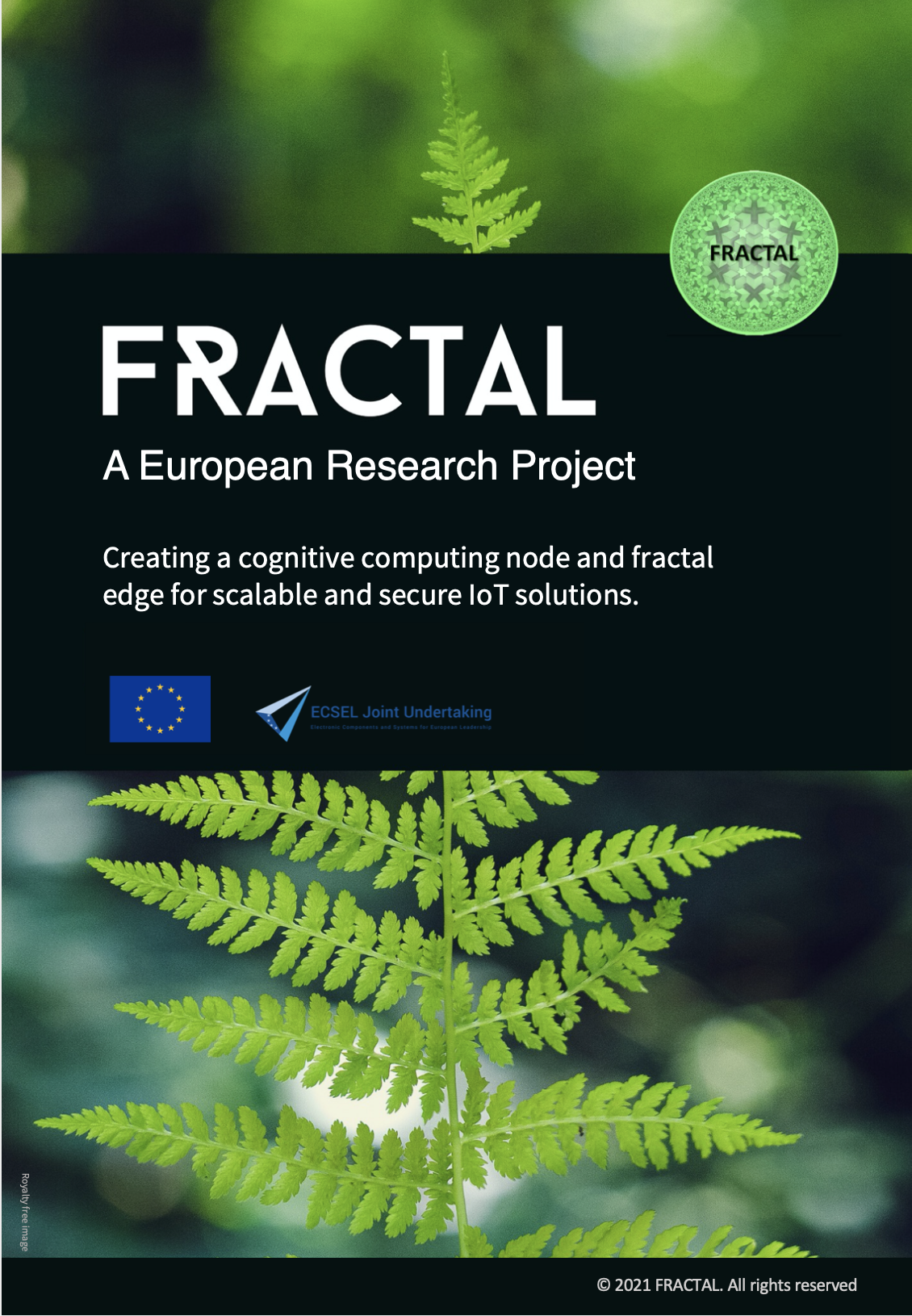 Brochure
Detailed introduction to the FRACTAL project and edge computing state-of-the-art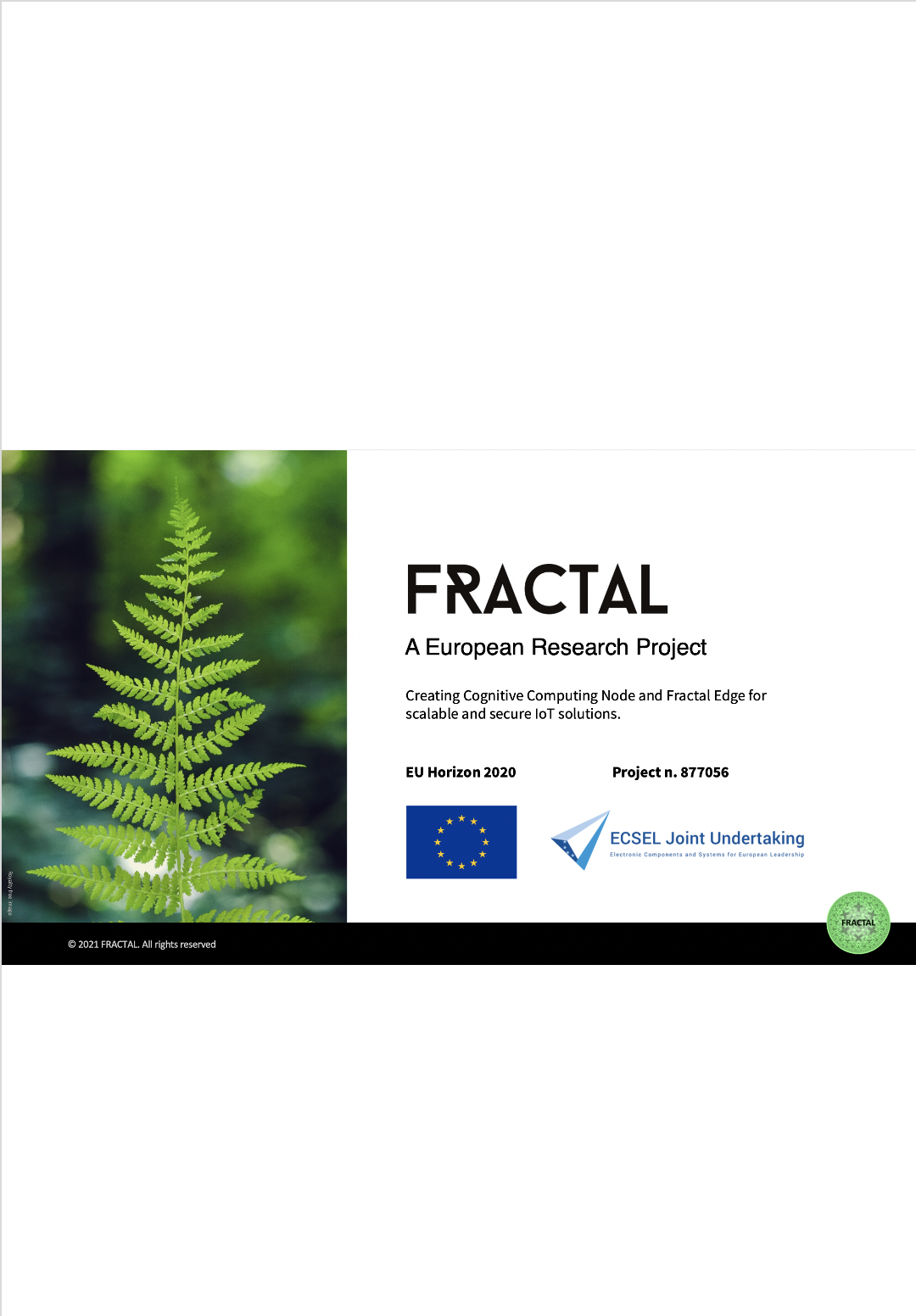 Presentation
FRACTAL's project background, goals, impact and use cases described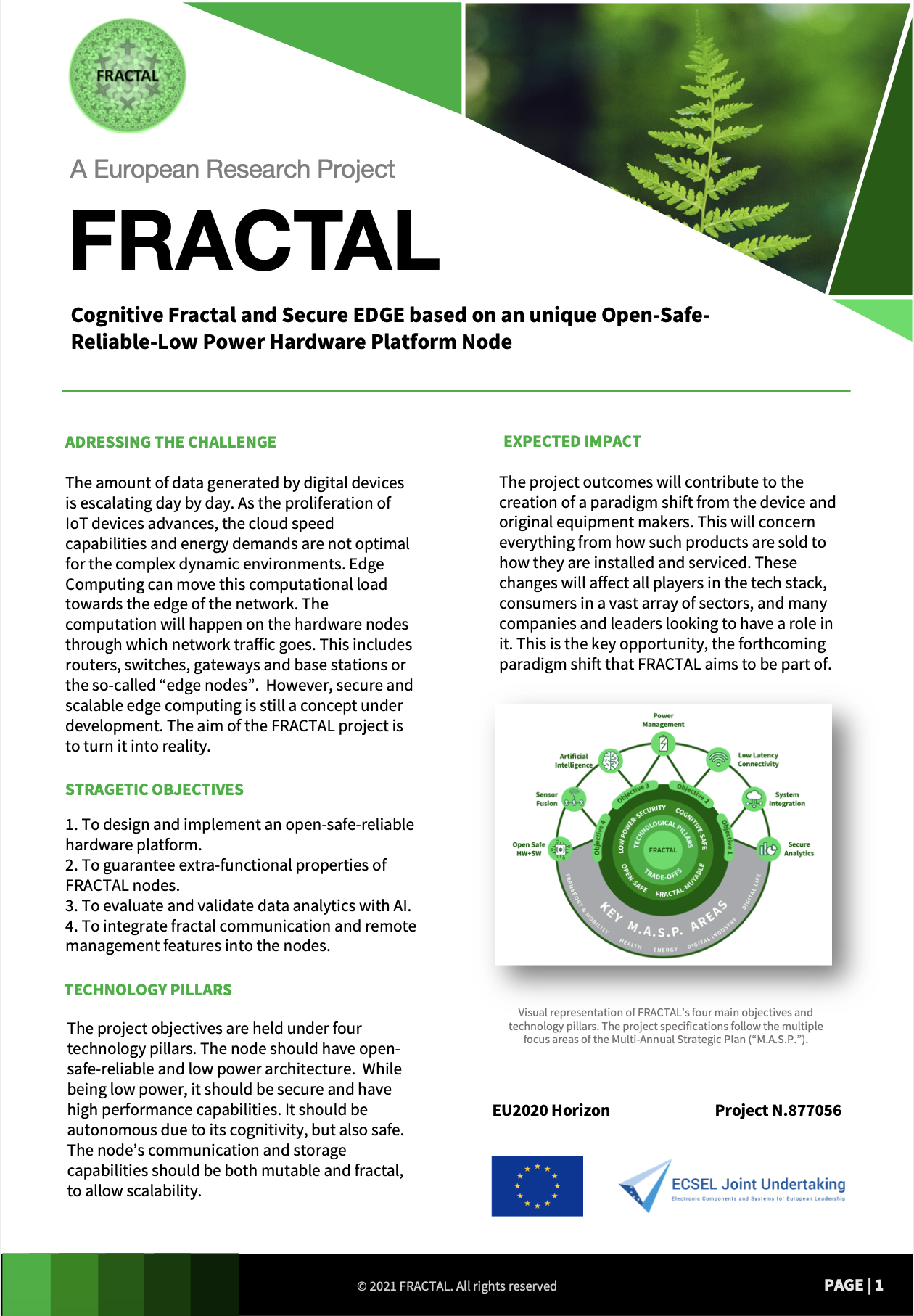 Leaflet
Short 2-pages description of the FRACTAL project